"The robot 9934 should go with 9935."

This article is very similar to Chicken copter (Mark I). You may want to consider merging it!
The Mark II is second of the Chicken Copter class, and Chickenman's preferred mecha. After the Mark I exploded, the next episode chickenman spent the whole day on it.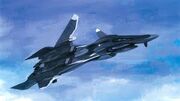 Once done, it worked Perfectly and this made Chickenman want to build even more. It was burned in Taco Power, but was rebuilt out of the burned parts, making it stronger.